While Instagram and Pinterest have been decking the halls for a few weeks already, I'm still in the pre-decorating stage.That's code for cleaning. It's no secret I love to clean. No, really I mean it. Cleaning gives me an instant sense of accomplishment – it's a very visceral, rewarding experience. I also need to have a clean, organized and edited house before I bring out the holly and the ivy.  I know it's culturally expected to tackle the whole home purge in January, but I love going into the holiday season knowing this job is already done. It gives me more time in the new year to hibernate!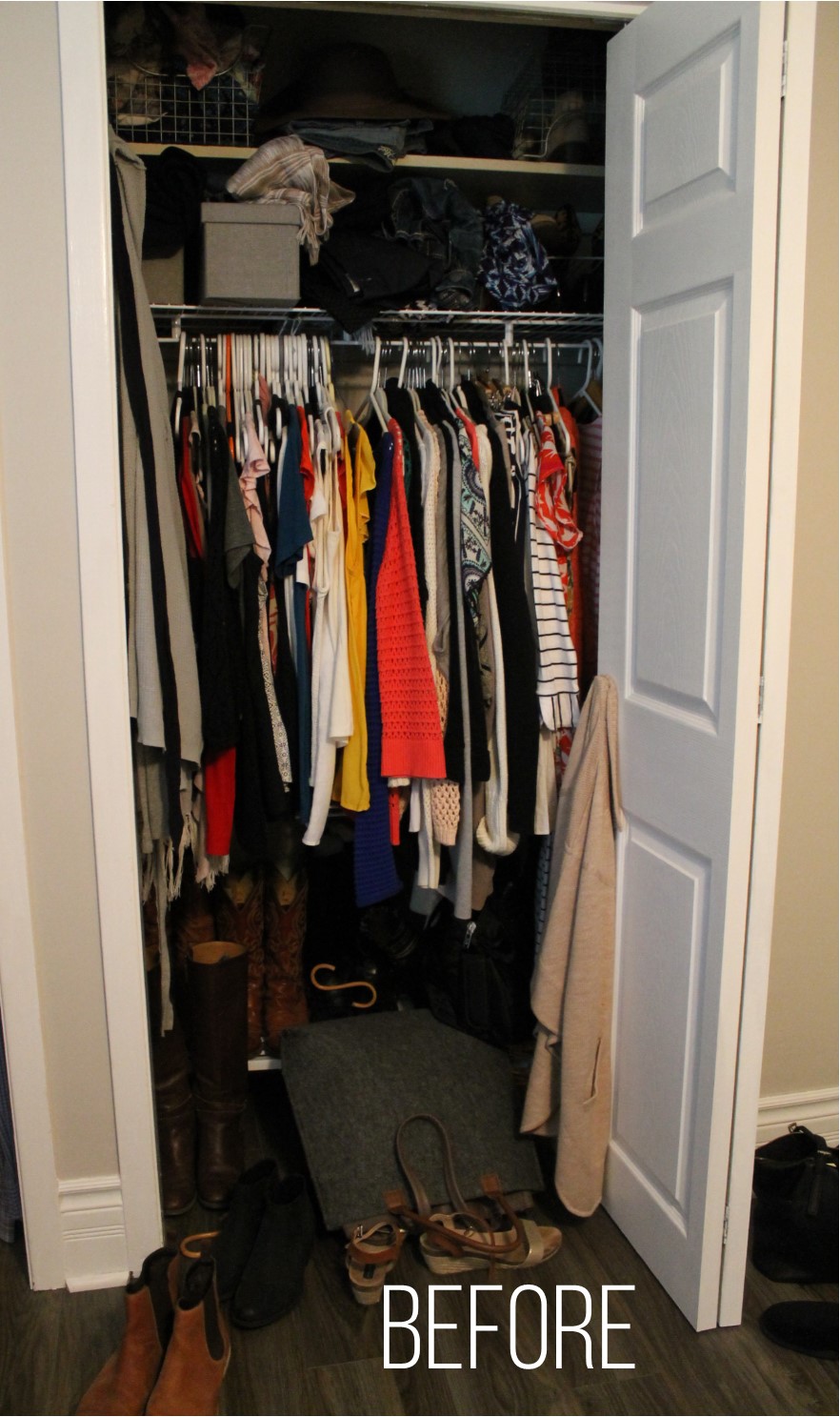 Most recently I tackled my bedroom closet. This was a job I couldn't do on my own. I felt totally overwhelmed by the stuff that was packed in there: jeans that haven't fit in years but that I couldn't get rid, a dress that cost more than I care to admit but never looked right on me and lots of sentimental keepsakes that needed to be moved elsewhere. I reached out to Joanna Petersen of Space Sense Organizing. I had a lot of guilt about the state of my closet. I struggled with an eating disorder when I was younger and still sometimes clothing my body can be stressful. So the thought of having to go through my clothes, piece by piece, and get rid things that no longer fit was enough to make me put this task off as long as I could.
Clothing, like food, can bring up so many memories and feelings. What I needed was an unbiased, objective voice that could help remove the emotion from clearing out my closet. This is exactly what Joanna gave me. She encouraged me to just focus on one item at time and was gracious when my "maybe" pile was bigger than my "give away" or "keep" piles. In the end we gave away about half the clothes in the closet. What I was left with was a clean, organized and streamlined space that no longer made me feel anxious or guilty when I look at it. Learning to accept that time, age and childbirth  has changed my body is an ongoing journey. Having a space filled with clothes I like and make me feel good has helped to make that journey a little easier. I'm no longer burdened with memories of jean-sizes-of-the-past or having the shame of not fitting into them anymore confront me every morning.
Here's Joanna's notes and tips for cleaning out a clothes closet.
How to organize a closet:
Get ready – have bags ready for any garbage or donation, a broom/vacuum and a wet cloth.
Remove items from closet – As you remove items, be mindful that you will be sorting them so try to keep like items together as you remove the clothes. 

Clean closet – take this time to sweep/vacuum and wipe the shelves
Sort – Get all the like items together.  You want to do a micro sorting for this, meaning don't just put all the shirts together.  Break it down into further categories like tank tops, tee shirts, button downs etc.
Declutter/Purge – Now that you have the items sorted, you have a clear idea of what you have and how much of it you have. Go through each pile and see what you can let go of.  Consider things like how often you wear it, how much you like it, how it fits, and if it's still in style.
Decide what is going back in the closet and what may be stored elsewhere – Depending on how much room you have in your closet, you may have to store away items such as clothing that is out of season
Put everything back! – Now that you have clearly identified what is staying and have all the items stored, you are ready to put them back.  For things that will be hung, try using the same hangers and hang clothing in the same direction.  This will keep a tidier appearance and clothes will fit better in the space.Asking for help is important. We weren't created to walk through life alone and I have been so blessed to have amazing friends and family help me get through this and many other of life's valleys. I encourage you to reach out to those you love and trust and share in each other burdens. When Joanna and I started the process of organizing my closet I could have never imagined the freedom it would bring. I'm so grateful for her help and knowledge in this.
xo Beth