It starts every July. The sound of the mailbox opening makes my heart jump. I rush to it with eager anticipation of what I will find. My pulse quickens as I plunge my hand into the darkness of the black metal box. Did it arrive today? Is it here? My fingers feel through the thin envelopes and then suddenly they stumble upon something thicker – with pages and a spine. Could it be…? Yes, this is it!! The Ikea catalogue had finally arrived!  There's nothing like curling up with a big cup of coffee and taking in each year's new products, displays and inspiring designs. Although I received the catalogue back in July I haven't been able to visit the store until last week.  I was super excited!
Last year we renovated our new house (new to us – it was built in the 1970's) and we installed an Ikea kitchen (which we LOVE). From August to November we went to the store so many times it sort of lost its magic. It became like a hardware store – a necessary place to pick up forgotten cabinet hardware, hinges and mislabeled drawer fronts, instead of the inspirational decorating wonderland it had once been. So I decided me and Ikea needed some time apart. By the time July rolled around this year I was in love again and couldn't wait to see what was new.
Of course the store didn't disappoint me. With coffee in hand, my friend and I wandered around the displays visiting each little pretend living room and fake kitchen. Not only do I like to see the furniture, but also how they use what they have to style each room and make it feel lived in. Here's a few my favorites from last week.
Decorating with baskets.
A simple mantel (love the rough hewed wood) with a basket as its focal point with some simple glass vases. I've been seeing baskets as art for while:
Here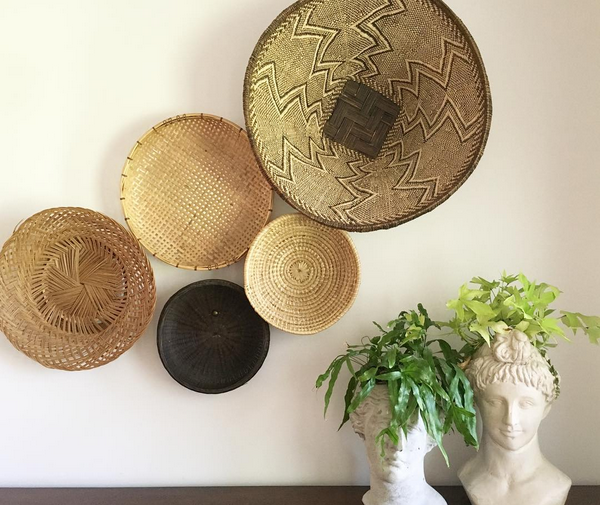 from The Nester – she totally does it better than Ikea!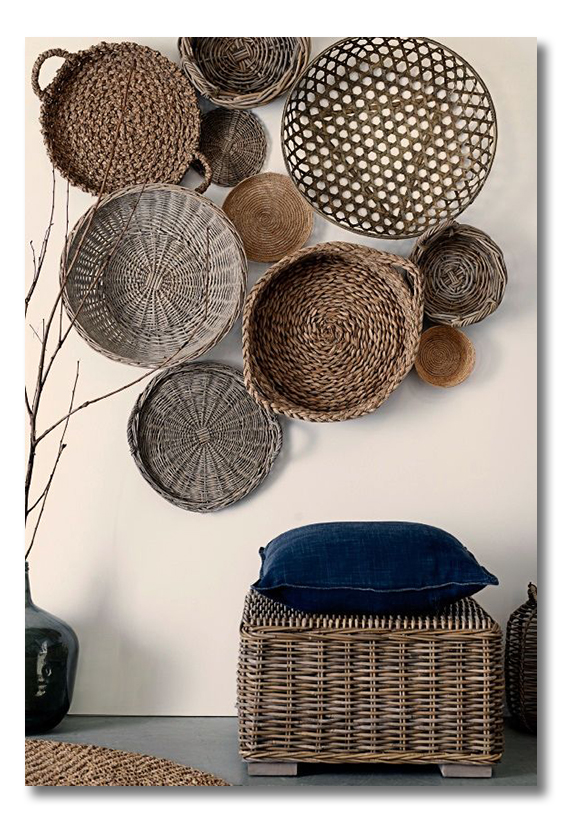 Plus lots of other awesome things to hang on your walls from this site!
And here (if you have $90 in your baskets-to-hang-on-the-wall budget then these are a nice choice!)
Speaking of baskets here is a pretty one from Ikea that would look as good carrying your produce at the farmers market as it would holding blankets (or Lego) in your living room.
Creative place settings.
Here's a fun take on place mats! Cutting boards at each setting.
Navy Blue!
New this season the Billy series of bookcases introduced a dark blue. It's only on this bookcase here but hopefully they will add more pieces with this colour.
To make this piece extra special swap out those puny dark blue knobs for these or these both from Anthropologie – gorgeous!
My favourite chair this year is the Strandmon Wing Chair in yellow.
From the catalogue:
It's a little smaller than it looks in the catalogue or online but for the price it's a decent chair in a great colour! Although I don't have a place for this guy at the moment if I did I would definitely add some of these pillow made from handwoven kilim rugs – such beautiful colours and texture.
. I had planned to buy this broom and dustpan set.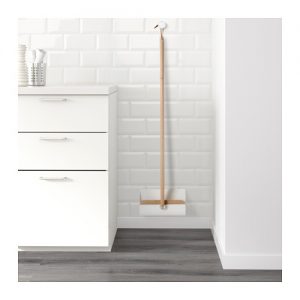 I loved how pretty and simple it looked but when I actually saw it in person I was disappointed. It was cheap feeling and the broom head was small and looked like it would fall apart after a week's work.
I left Ikea that day with a stomach full of smoked salmon, a pair of curtains and lots of fresh inspiration.